Welcome to UglyTeapot.net, the website for UglyTeapot Art- silver, glass and polymer clay jewellery and beads hand made by Charli Wilson.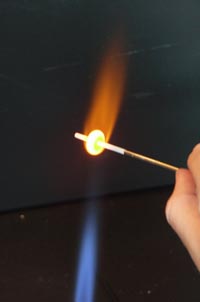 All my pieces are made with quality sterling or fine silver, and swarovski crystals.

Lampwork is the technique of using a flame to melt glass. It is an ancient art, artefacts having been discovered from as far back as 1700 BC. It is called lampwork because the traditional flame source was an oil lamp. Lampwork was popularised in the fifteenth century, by the skilled artists from the Island of Murano in Italy.

I started lampwork in 2008, searching for a way to make glass inclusions for polymer clay. Glass soon took over, and polyclay is now largely a winter hobby for when it gets too cold to torch!

The glass I use is primarily soda lime glass from Italy, worked with a torch running off bottled propane. The glass is shaped in the flame, and then annealled in a digital kiln to make the glass as strong and durable as possible.

First I select a stainless steel mandrel- the size of which denotes the size of the hole in the centre of the bead will be. This is then coated in a clay substance so the hot glass does not fuse to the metal. Coloured glass rods are softened in the torch flame and wound around the metal mandrel to form unique, one of a kind beads! I use brass and graphite tools to shape the hot glass, and inclusions such as fine silver, silver foil and mica powders to decorate the glass- as if a palette of over 200 glass colours wasn't enough!
I create because I like pretty things, and glass is about as shiny as it gets. Also, I get to play with a blow torch!
I can have a go at creating anything, so if you have an idea you would like to turn into a commission, drop me an email. I have done jewellery to match particular outfits such as bridesmaids dresses, and to commemorate special occasions- for example using the glass from a champagne bottle to create ever lasting momentos of the event.